Club Haug is altijd op zoek naar het talent van morgen en biedt plek voor comedians zich te ontwikkelen. New Talent is de plek voor het ontdekken van nieuw comedy talent en waar comedians nieuw materiaal kan testen op het publiek.
Club Haug is always looking for the talent of tomorrow and provides a convienient place for comedians to develop. New Talent is the place to discover new comedy talent and where comedians can test new material on the audience.
MC JANNICK HAMBERG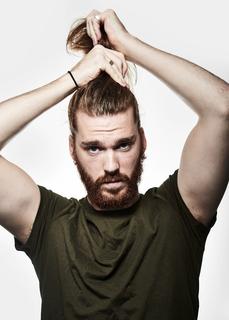 In 2016 betrad Jannick voor het eerst het podium. Sinds zijn eerste keer is hij druk bezig zich te ontwikkelen op het podium en dat is niet zonder resultaat, want een jaar later, in 2017, won Jannick zowel de jury- als publieksprijs van de ICFR Talent Award op het International Comedy Festival Rotterdam en speelde hij in 2018 op het Utrecht Internationaal Comedy Festival én Paaspop. Als de jongste van drie is Jannick een kind dat nooit echt opgroeit. Met zijn enthousiasme en energie sleurt hij je mee zijn wereld in. Een wereld vol onbegrip, verwondering en fascinatie voor de dingen van het dagelijks volwassen leven waarin hij zich als 24 jarig kind probeert stand te houden. In 2019 won hij de publieksprijs van het Leeuwarder Cabaret Festival.
met:
Marco Lopes
Pieter van Breevoort
Luuk van der Vaart
Younes Jerrari
Tom Montfrooy
We accept pin-only payments, no cash!