drop by
Visit us
Entrance is situated direct on the waterside, just before the tunnel and beneath of 'My Life'.
Latitude 51.916882,4
Longitude 4.491330
We can be reached at walking distance from Rotterdam Blaak, buses and trams. If you're coming by car, please use parking garage:
Parkeergarage De Boompjes
Terwenakker 18 · 010 413 0505
Open 24 hours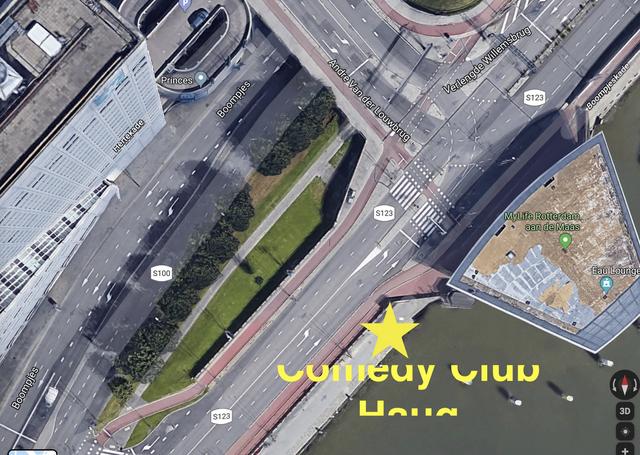 Opening hours
Wednesday 7.00 PM – 01:00 AM
Thursday 7:00 PM – 01:00 AM
Friday 7:00 PM – 02:00 AM
Saturday 7:00 PM – 02:00 AM
Check our schedule for events on other days in the week.
Payments
We accept pin only:
contact info
Contact us
Comedy Club Haug
Boompjeskade 11
3011 XE Rotterdam
WhatsApp 0621867424
If you're a comedian, an upcoming talent or think you are please send us an email. A link with footage of some kind would be helpful. We might schedule you in for one of our New Talents of Comedy nights! newtalent@clubhaug.com
Other mail please use:
Email: info@clubhaug.com
Comedy Club Haug Rotterdam B.V.
KvK / CoC: 73508764
Bank: NL47INGB0008776995
BIC: INGBNL2A
VAT: 859553498B01
have a question?
Drop us a line
By the time you reached this part of the website we hope you know everything there is to know about us. If not please drop us a line here.
Just ask if you want to make reservations for (really) big groups or want to book one of our regular comedians for your own event. Club Haug is also available for private events such as parties and meetings. Our host Bobbi can help you make arrangements.
Or maybe you think you are funny enough to show us your own talents by applying for one of our open mic nights.
If you don't know what to wear or you work for this amazing blog, newspaper or TV show and you want to report this awesome comedy concept that has finally reached the big city of Rotterdam, even then, you can use this box.
So click here, and fill in the contact form and we will get in touch with you asap.
Read you soon!