A line-up show consists of an MC with three professional comedians, often supplemented by an upcoming talent. At Club Haug you will always find the best talent in a sublime atmosphere. An evening of guaranteed laughter, alone or with your friends!
MC RUUD SMULDERS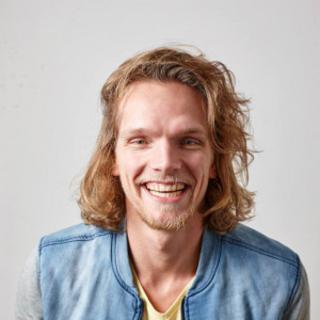 Ruud Smulders moet je meemaken. En dat kan op alle denkbare manieren. Theater, televisie, radio en youtube. (Niet privé. Privé wil je Ruud niet meemaken. Dat is voor niemand leuk.) Maar al het anderen is top amusement.
Onverwachts, absurd, persoonlijk en maatschappijkritisch zijn woorden waar Ruud zelf totaal bij afhaakt als hij ze leest. Zijn liedjes zijn niet van hem dus die draagt hij vanavond niet voor en dat is maar goed ook want hij speelt geen instrument. De rol van zijn tegenspeler 'Odette' wordt vandaag gespeelt door niemand, want het is een solovoorstelling.
Al met al genoeg informatie om zonder enige verwachting te gaan kijken naar iemand die je niet kent.
Tenzij je hebt gekeken naar het, tot in den treuren herhaalde, 'Achter gesloten Deuren'. Dan herken je Ruud wel.
Youtube – 'Bruudje Lulders' Televisie Ruud Smulders brak door bij het grote publiek in 2015 met de Lama's remake 'Alpacas'. Tevens werd Ruud het gezicht van candidcamera programma 'Hufterproef'.
EMMANUAEL SONUBI (UK)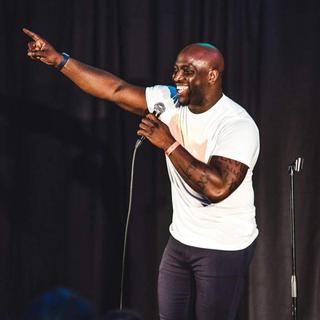 London based Emmanuel Sonubi's career in Comedy started only a few years ago and quickly grew from strength to strength earning himself a reputation as "one to watch out for". Since then he has featured in many high profile shows including a showcase set in "The best in Stand up" at The Comedy Store London.
STEPHEN BELL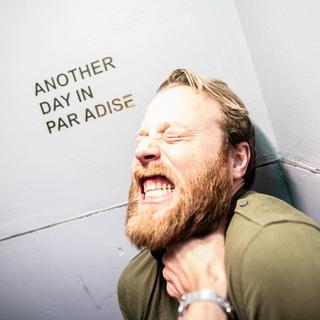 An enraged Irishman who lost himself in Dutch society. This bearded bundle of energetic joy will propel you into his weird world, wether you like it or not.
DAVESON IGNATIA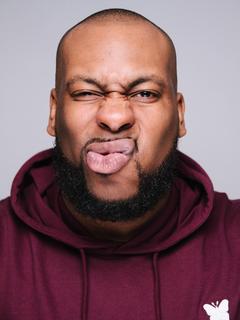 Van kleins af aan is Daveson te vinden op het podium!
Of het nou een playback show was of een kleine rol in een theater stuk, hij was er altijd bij!
Zo zocht hij zelf de spotlights op en begon zijn carrière als Master of Ceremonie"MC" op festivals, en evenementen.
Al snel kwam hij erachter dat hij meer talenten had dan alleen artiesten op en afkondigen.
Het duurde dan ook niet lang voor dat hij zijn liefde vond in het maken van stand up comedy!
Als een comedy talent weet hij als geen ander zijn publiek te boeien, fascineren en te verleiden tot een schaterlach.
Zijn liefde voor comedy draagt hij met passie met heel veel plezier uit.
talent: GILION SLORY
This is a bilingual spoken show in Dutch and English.