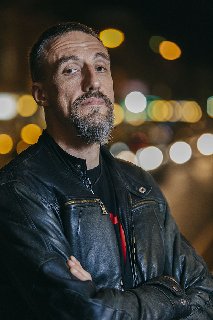 As seen on BBC One's Live At The Apollo and The Michael McIntyre Show
"HARD-EDGED SOCIAL COMMENTARY AT IT'S BEST" Times
"OUTSTANDING. HUGHES IS GOLD" Metro
Internationally renowned stand up comedian Steve Hughes is known the world over for his hard hitting, take no prisoners stand up.
The inimitable ex-heavy metal drummer has been burning up the international circuit for the past 20 years, touring throughout Europe, Australia, USA, Canada & New Zealand to rave reviews and mutinous laughter.
After storming stages at prestigious invite-only festivals and selling out his solo tours worldwide, Steve returned to Australia in 2014 with a new show "While It's Still Legal" which sold out at Comedy Festivals across the land. Most recently Steve wrote and performed his most personable and intimate show yet entitled "Nervous Breakthrough" which was filmed at The Enmore Theatre (Sydney) for his third comedy release.
He makes his long-awaited return to the UK in February 2020, and will be embark upon a UK tour in the Spring. Free-thinking, intelligent, opinionated: "Are You Serious?" will be Steve doing what he's always done best; making the uncomfortable acceptable and the horrifying hilarious.
"An honesty and openness rarely seen among comics. His insights are spot on, his opinions are intelligent and his jokes are top class"
The Guardian
"Exactly what political comedy should be, intelligent, provocative, profound, and topped off with good, solid gags. See him while it's still legal"
Chortle
Bar: 19:00
Hall: 20:00
Start show: 20.30
End show: 22.30
Bar open till 01:00.
Be on time!
Lieve gast,
Met zoveel pijn in ons hart zijn ook wij genoodzaakt alle voorstellingen per direct stop te zetten. We hadden de hoop nog even fijn samen met jullie te mogen lachen, helaas loopt alles anders en volgen we de maatregelen die evenementen verbiedt om verdere verspreiding te voorkomen. Hier werken wij graag aan mee.
Naast het feit dat we druk bezig zijn te inventariseren welke specials er naar een nieuwe datum verzet kunnen worden en welke definitief gecanceld moeten worden wordt er ook door onze collega's van het ticketing systeem keihard gewerkt om tegoedbonnen aan te kunnen bieden danwel restituties, in bulk, te kunnen verwerken. Ook werken wij, op veler verzoek, aan een optie waarbij het ticketingsysteem ook de optie kan bieden om je ticket te kunnen doneren. Dit zou voor een nieuwe comedyclub als Club Haug een enorme redmiddel kunnen zijn waar het team en alle artiesten jullie vreselijk dankbaar voor zouden zijn.
Volgende week zullen we met meer duidelijkheid komen over de tickets van deze week en de komende weken en over het retoursytseem.
We hopen op jullie begrip en support, voor vragen kun je altijd bij ons terecht en voor nu wensen we iedereen heel veel sterkte in deze moeilijke periode en blijf vooral gezond en veilig.
★★★
KEEP SUPPORTING OUR LIVE COMEDY AND CHECK OUR SHOWS AND LIVE STREAMS ON
YOUTUBE